Find the schedule of engaging industry seminars and workshops that will take place during Media Expo Mumbai 2023.
Updated daily.

Simplifying Colours 
Panel Discussion and Workshop on Colour Management
2nd March 2023, 3.00 - 4.30 pm | Seminar Area, Hall No. 1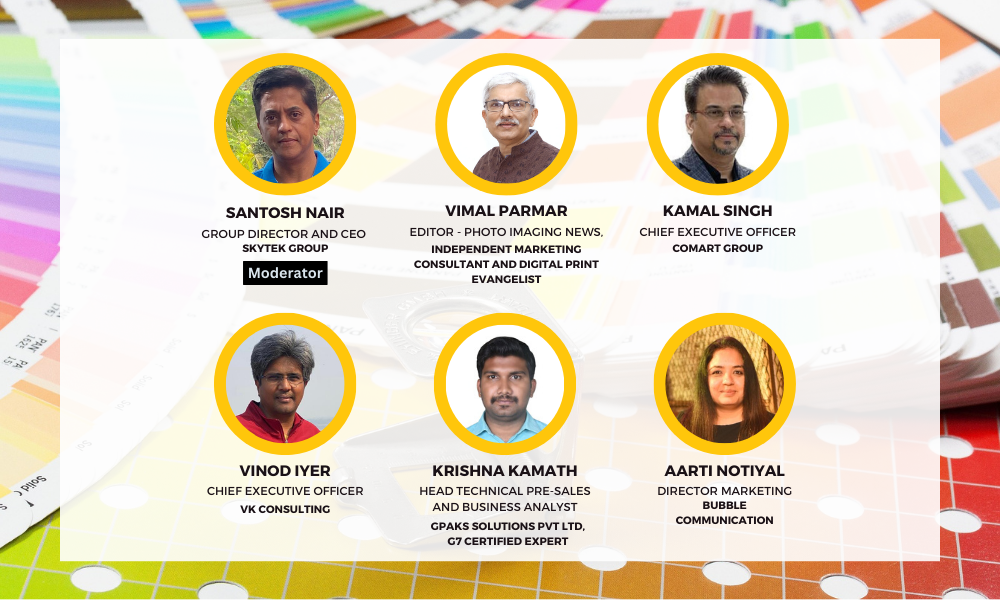 With the growing demand of the retail and advertising sector for high-definition graphics, modern printers require modern colour management techniques to meet their HD needs.
Be a part of the discussions by a well-represented industry panel to de-mystify the enigma of colour management in achieving vivid and accurate colour reproductions in print. 
Get insights on
Need for Colour Management in contemporary printing
Brands and Colours – The Ask
Addressing challenges in colour workflows
The Future of Colour Management 
Panelists:
Mr. Krishna Kamath, Head Technical Pre-sales and Business Analyst - GPAKS Solutions Pvt Ltd, G7 certified Expert
Mr. Vinod Krishnamurthy, Director - VK Consulting / Fortuna Colours and Prints LLP
Ms. Aarti Notiyal, Director Marketing - Bubble Communication
Mr. Kamal Singh, CEO - Comart Group    
Mr. Vimal Parmar, Editor - Photo imaging News, Independent Marketing Consultant and Digital Print Evangelist
Moderated by: Mr. Santosh Nair, Group Director and CEO - Skytek Group
Future of Industrial Screen Printing in India
Panel Discussion
3rd March 2023, 11.30 am - 12.30 pm | Seminar Area, Hall No. 1
Advancements in Screen Printing technology have made applications for large-scale manufacturing and functional processes even more favourable. The versatile nature of surpasses goes beyond textiles – enabling printing of eye-grabbing vehicle graphics to miniature circuits and OLEDs to glass printing for architecture, and even medical applications – the possibilities for industrial screen printing are now limitless.

Join the thought leaders of the industry as they explore new avenues and opportunities in the growing industrial screen printing segment.
Anand Belulkar, DGM Sales (South & West), Fujifilm Sericol India (P) Ltd., Pune
Mrs. Mukul Shetty, Business Head, Keetronics (India) (P) Ltd.
Rajesh Vaity, Vice President (Printed Product) - PRS Permacel (P) Ltd., Ambernath, Part of St. Gobain Group
Shailesh Deshpande, Managing Director - DecalTech, Bhiwandi
M. Sudharshan, Managing Director, Integral Labels (P) Ltd., Bangalore
Devang Sheth, Publisher, Screen Print India magazine
Ajay Gandhi, CEO - Kunal Enterprises, Mumbai
Moderated by: Prof. TKS Lakshmi Priya, Head, Printing Technology - Avinashilingam University, Coimbatore
Entry Free.
Attendees are required to register for the exhibition to attend the Industry Talks.
General visitor terms and conditions apply to all Seminar attendees.